For the complete series of the Texas Edition Block of the Month, click the link below
Texas Edition Block of the Month Tutorials
Windmill and Sunflowers can be made in two sizes. Look at the back of the pattern for fabric and other supply requirements.
Raw Edge Applique Process
The process of completing a raw edge applique project are illustrated in the Ol' Texan Pick Up Truck Tutorial. The same process us is used for Windmill and Sunflowers.
Trace The Pieces
You will need a light box for tracing. Here is one similar to the one I use. Click the image for more information.
Tracing the Small Sunflower
Follow the Ol Texas Pick Up Truck instructions for tracing the pieces. When you get to piece number 45, here is a tip to make things easier. I combined pieces 45, 47, 48, 49 and 50 into just one piece. Here is how I traced these pieces as one.
The piece labeled 45 is actually pieces 45, 47, 48, 49 and 50. Piece 46 is the center of the sunflower. Here is what this piece looks like when placed on the block.
Here is the finished small sunflower.
Tracing the Butterfly
There are instructions in the pattern for using a different technique to make the butterfly. That technique is not illustrated here. Instead, here is how I prepared my butterfly. Like the sunflower, I combined the pieces into 2 separate pieces.
Next I placed the body of the butterfly on top and lightly fused those together.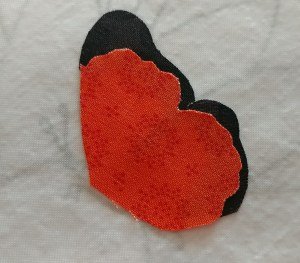 Here is the back view.
Next I used my Pigma pen to draw in the black lines.
Preparing the Fabric
Now that all the pieces have been traced, it's time to place the pieces onto the fabric. For Windmill and Sunflowers here is a technique for adding the star to the windmill blades. Do this before you start adding pieces to the background fabric.
Complete the Block
Finish the block the same way you did the others. Use steam and an applique pressing sheet to permanently fuse the fabrics to the background and you're done.