A few things about the video:
The interfacing used in the video is
By Annie's Soft and Stable.
As you saw in the video, it stands up on its own. You can choose that product if you like your bag to stand up. I used Fusible Fleece which is available in various thicknesses. Be sure you are purchasing a fleece or interfacing that is fusible. Choose the thickness that you like best.
The instructions include options for adding pockets to the lining and adding a key holder. These are not addressed in this tutorial. Follow the printed instructions if you wish to add these to your Mondo Bag.
For information on fusible fleece read the article, Fusible Fleece for Sewing and Quilting Projects .
Gather Supplies
You will need instructions and interfacing panels to make a Mondo bag.
The Mondo Bag Fun Pack includes
instructions and panels.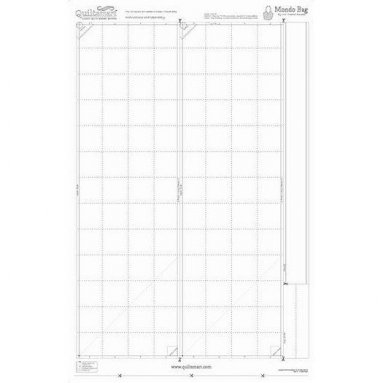 The Mondo Bag Interfacing Set includes just the panels.
What You Need
Refer to the instructions that came with your Mondo Bag Kit for fabric and fleece requirements. In addition you will need the following:
Applique Pressing Sheet
Sewing Machine with 1/4″ foot and regular foot
Iron and ironing surface
Thread: Coordinating thread for sewing. Contrasting thread for top stitching.
Sew Outer Fabric Panels
The next video describes all the information printed on the gridded interfacing.
Cut the fabric squares according to the Quiltsmart instructions. For each of the four panels you will do the following steps.
The gridded interfacing has two sides. The side with the bumps is the adhesive side. Lay the panel on your ironing board with the bumpy side up. With right sides up, center a fabric square inside each square in the grid.
Arrange the Fabric Squares
Place the fabric squares so they don't touch each other or overlap the printed dots. Later you will fold on these dotted lines. Keeping clear of the lines makes the folding easier and neater.
Fuse Fabric to Interfacing
Next use the iron to fuse the fabric to the interfacing. The instructions tell you to use steam and press for 5 – 10 seconds. Instead of using steam, I use a spray bottle of starch alternative or plain water.
Lightly spray the starch alternative or water over the fabric. Place the applique pressing sheet over the fabric. Press for 5 – 10 seconds over the entire area. BE CAREFUL! The applique pressing sheet holds the heat for a little while, so pick it up by one of the un-ironed edges.
After the pressing, check that the fabrics are fused properly. Fold the panel along the long and short lines and check that the edges stay in place.
Check the long lines.
Check the short lines.