Tuffets, a footstool or low seat, have captured the imagination of quilters, crafters and sewists for several years now. One of the most popular patterns to use is the fusible foundation pattern and instructions from Tuffet Source™. This article shows you step-by-step how to piece a tuffet cover. You will need the Fusible Foundation Pattern from Tuffet Source.
>
Here is the tuffet I made for myself about three years ago.
Because it gets daily use, it's time to recover it.
How to Piece a Tuffet Cover in Easy Steps
Step 1 – Prepare the Foundations
The first thing to do is fuse the fusible interfacing to muslin. Your pattern will have two panels. Each panel has 4 foundation units. I did mine in two sections, four units at a time.
Roughly cut around the first four printed foundations.
Place the printed, fusible interfacing on top of the muslin with the printed side up. The bumpy side is the heat activated fusible material.
I spray a little water on top and then use an Applique Pressing Sheet to fuse the material in place. Set your iron to polyester.
Repeat with the remaining set of 4 units.
Step 2 – Cut out the Units
After all the foundations are fused to the muslin, cut them into 8 individual units. The outside line of each unit is indicated by the little scissors icon. Cut on the outside line of each foundation.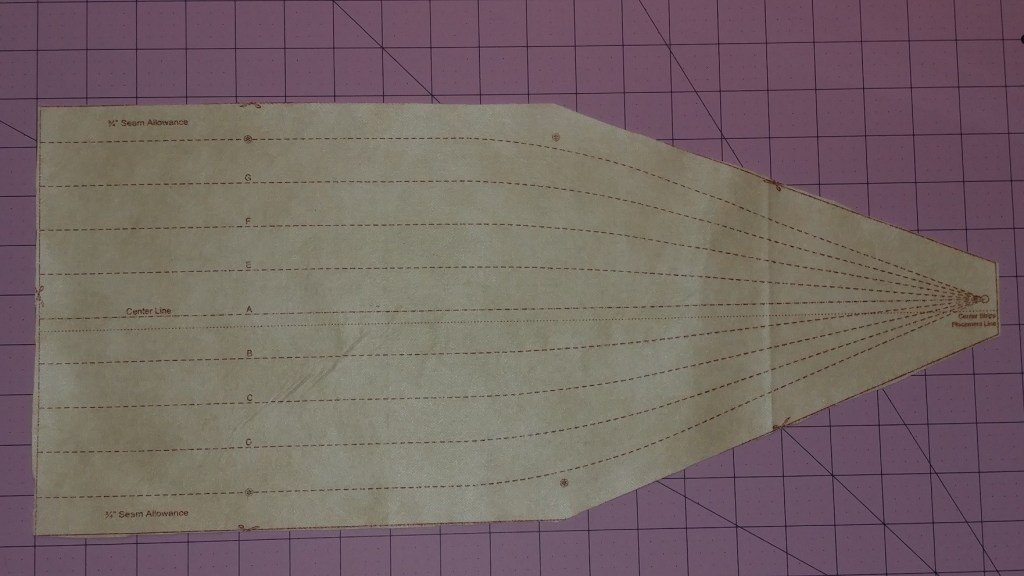 You will have a total of 8 foundations.
Step 3 – Prepare Fabric Strips
Next, prepare your fabric. The instructions tell you how to lay out your fabrics from 1 through 8. Choose your fabrics and cut the strips. Lay out the strips as shown in the instructions.
One thing not in the instructions is to number the sections on each foundation unit. Number the sections as shown below.
These numbers correspond to the fabric numbers. In the next step, when you start piecing, you will begin with Fabrics 5 and 4. Piecing is done from the Center Line (shown above) out.
Step 4 – Sew Fabrics 4 and 5
In this demonstration, I am using light blue for Fabrics 1 through 4 and dark blue for Fabrics 5 through 8.
Lay out 1 strip of Fabric 4 with right side up. Place 1 strip of Fabric 5 on top of Fabric 4 with right sides together.
Locate the dotted Center Line.
Line up the Center Line (dotted line) along the top of the stacked Fabrics 5 and 4 as shown below and the two close-ups that follow.
Close-up right side.
Close-up left side.
Pin the fabrics in place. Stitch on the dashed line marked "A".
Turn the unit over and press towards Fabric 4.